Offered by a science-driven company specialized in urogenital pathologies, Urosphere's platform enables the evaluation of compounds at various stages of development, from target identification to clinical development with new innovative preclinical models.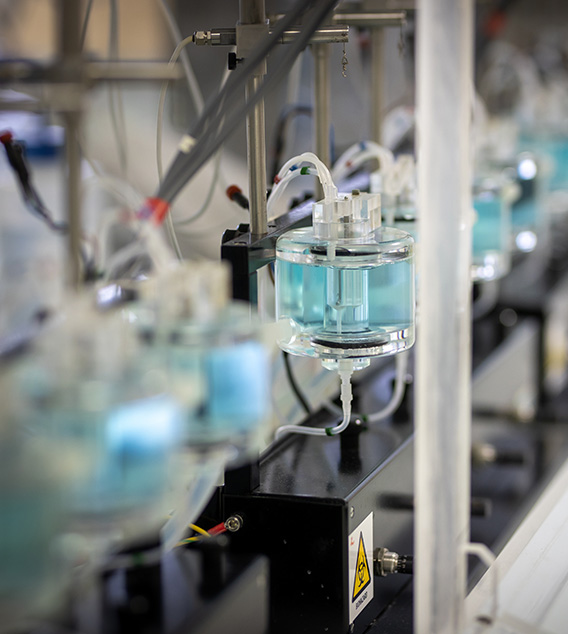 Our expertise in physiopathology, pharmacology and oncology is geared to the success of your preclinical project through:
Testing your compounds using the most appropriate physiological and pathological models
Testing your compounds using our unique biobank of urological PDX models
Predicting the therapeutic potential / efficacy
Predicting and evaluating the renal toxicity
Providing proof of concept in human tissue where appropriate
Establishing proof of concept
Urosphere also provides  full preclinical pharmacological packages
Urosphere is flexible and customer-centric so we're happy to discuss and investigate 'one-off' studies to suit your specific needs. Whether it is through modifying existing models, devising new models or innovative exploration of human tissue we're keen to collaborate.
Urosphere has vast experience and expertise in the following therapeutic areas :
Urology
Nephrology
Andrology
Gynecology
Gastroenterology
Oncology
Urosphere has 300m² of offices and laboratories offering customers an optimized organization and a quality level suited to their requirements. We also have 350m² of animal care facilities to ensure business continuity and a high level of quality.
Our experimental platform consists of both
in vivo
and
in vitro
pharmacological assays. We also provide
consultancy services
for the preclinical development of your compounds.
Services With Our Established
Experimental Models
With more than fifteen years' expertise in preclinical testing, Urosphere offers in vitro disease models to support the pharmacological characterization and development of your compounds (potency and efficacy, reversibility of drug action).
Advantages of functional pharmacology assays using human tissue
Preclinical proof of concept in target tissue.
Direct relevance to humans.
Provides valuable information early in the drug discovery process by supplying early indications on the efficacy of your compounds.
Tissue supply / Ethics
Urosphere obtains donated human tissues in a strictly ethical manner through a secure and dedicated network of French hospitals.
Urosphere works according to relevant legislation and complies with the highest standards of ethics. 
A highly qualified and dedicated team
Scientists specifically trained and dedicated to experiments using human tissue.
Strong, clear, internal standards and operating procedure for human tissue experimentation.
Vast experience using different human isolated tissues.
Species : rat, rabbit, mouse, guinea-pig, (others upon request) human
Tissues : all urological & gastro-intestinal tissues (others upon request)
Urosphere can test your compound on a collection of human and animal cancer cell lines.
Urosphere develops organoids from the urogenital tract from either normal or cancer tissue samples from patients.
Quantitative and qualitative analysis of specific biomarkers can be useful for establishing an etiologic mechanism by generating a definitive diagnosis and predicting a treatment response. We provide enzymatic assays: colorimetry, fluorescent, bioluminescence and immunochemistry assays (EIA and ELISA tests).
We provide a combination of multiple species, techniques and validated animal models for upper and lower urinary tract pathologies as well as the gastro-intestinal and oncological fields.
Species: rat, mouse, guinea-pig (others upon request)
Animals: normal or genetically modified
Cystometry in both conscious and anesthetized animals
Micturition calendar
Measure of physiological pressures (arterial, urethral and vesical)
Electromyography
Pharmacokinetics
Von Frey testing
Metabolic cages
Histological analysis
Imaging (bioluminescence and fluorescence)
Efficacy testing with patient-derived xenografts (PDX)
Efficacy testing with cancer cell line xenografts (CCL)
Data obtained from assays provides information about compounds' mechanism of action in physiological or physiopathological conditions, as well as potency, efficacy, duration of action, and more. It can also be integrated in non-clinical files for submission to regulatory authorities during clinical trials applications.
In addition to offering contract research services, Urosphere provides consultancy services to accompany the research and preclinical development of your compounds, as well as post-launch studies of marketed drugs.
A personalized collaboration to develop optimal and efficient research strategies
Customized study design and protocol development to meet your objectives
Portfolio review
Target evaluation and validation
Participation in Scientific Advisory Boards or Scientific Committees
Strategic preclinical development plan
Our Services
& Innovation
Urosphere's experimental platform consists of both in vivo and in vitro pharmacological assays. We also provide access to a unique biobank of PDX preclinical models from urogenital cancers.
Finally, Urophere offers consultancy services for the preclinical development of your compounds.
Urosphere Services
Urosphere offers a range of services based on our innovative experimental models.
Urosphere Innovation
Development of customized models Codevelopment of therapeutic compounds Licensing.